Join Us For A One-Day Event
May 23, 2021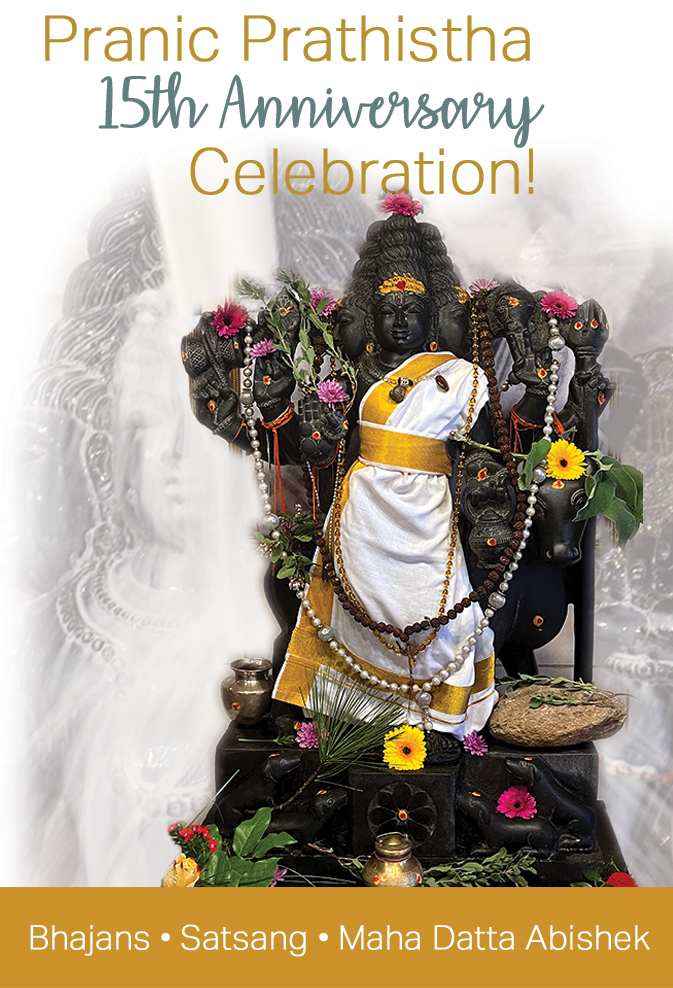 Dattatreya's arrival to the Divine Mother Center in May, 2006 was miraculous. Sri Kaleshwar arrived and unbeknownst to him, a statue of Dattatreya had been brought and was waiting in a large crate to be blessed by him. He was authentically surprised to see a statue of Dattatreya outside his bedroom window.
Dattatreya was always ten steps ahead of him he said. Sri Kaleshwar later said...
"This morning I woke up and I felt I was in Penukonda. When I woke up today it took me 30 seconds to figure out where I was. I'm serious. It's the first time in my life. That's interesting that I started the process with you guys. Before I came here the statue was here."
He then initiated a special process to install and enliven the Dattatreya statue, a yogic process called Pranic Prathishta putting part of his soul into it.
Join us as we gather together for bhajans, a special satsang with Mataji & Nityanandaji, and a Maha Datta abishek where a conch will be blown in your name to celebrate Pranic Prathistha (Dattatreya Enlivening) 15th Anniversary!
Suggested Donation $54*
Connect to Sri Kaleshwar in this special one-day event.
*Once you've enrolled in this course, you have access to all on-going series that are a part of the Kaleshwar Charitra. If you're currently enrolled, consider donating for your participation in the Pranic Prathista 15th Anniversary program.
"The master and student, that relationship is beyond any relationship on this planet. That bond, that relationship is immortal. It's forever and ever for many lifetimes. Wife and husband, brother and sister, father and daughter, son and mother, friends -- these are temporary attachments. Beyond any relationship is between the master and the student. That bond you really need to develop. That relationship you really need to carry. It's super important."
- Sri Kaleshwar
About This On-Going Series
Join us as we connect to Sri Kaleshwar (January 8, 1973 - March 15, 2012), whose life's work was to create a lineage of spiritual masters and healers to bring the Divine light to the world. As we celebrate his mahasamadhi, we honor his life, his sacrifice and his on-going grace in our lives. The connection to the master is Divine and immortal, and during this auspicious time we remember together the bliss of being with the Master. It is through his grace we can share these memories with our soul family and share his light with one another.


Throughout this series, we'll hear stories and experiences from those who served him, learned from him and were blessed by his physical presence.
This course is an on-going series!
"I won't be with you on the physical level forever until your last breath. You won't be with me until my last breath. We're all separating. I don't care about the body family; I care only about the soul family. That's important. On the soul level I have to do my duty – the soul handling. Then later, the connection will be all the time there. That's important. That's immortal. That's the real fragrance. The body family is maximum 50-80 years. The soul family is immortal. So, try to be as members in that family to reach that stage. You'll know that fragrance very soon."
~Sri Kaleshwar
Thank you for joining us as we remember Sri Kaleshwar together. This on-going series is available by donation. Click Enroll Now and choose your donation amount. All donations support the continued development of community offerings from the Virtual Ashram and the Divine Mother Center.