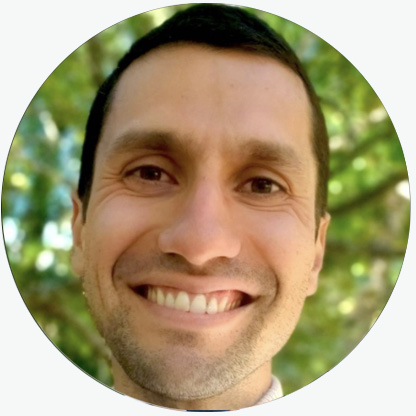 David started practicing meditation almost 20 years ago. But it was only after meeting Sri Kaleshwar in 2006 that he began to experience the kinds of higher states he had only read about in books.
After his experiences revealed his purpose in life, he dedicated himself to helping other people awaken to the same states of consciousness.
He currently lives with his wife and two children in Northern California.
If you've ever felt a calling to serve the world in some great capacity, but struggle to see that calling manifest itself in your life—you are not alone.
It's a struggle that many souls find themselves in.
Perhaps you experience it as a deep feeling that you are meant to do something. Make a difference. That you have a unique gift and set of strengths to offer the world and help make it a better, more beautiful place.
But instead of expressing these gifts and helping others, you feel like you're the one that needs help. You feel like your life is the opposite of where you'd like to be. Full of conflict, struggle, frustration, overwhelm.
Rather than being an ocean of peace and a refuge for others, you often feel angry or irritated. Impatient with those you love.
You want to be living a life of service that rewards you with abundance, but instead you feel stuck in a job that feels arduous and struggle to make ends meet. And it seems like no matter what you do, the challenges never end, and you feel like you're adrift at sea.
Many end up feeling like as long as these challenges continue, they will never reach their goal. But the problem isn't coming from the challenges. It's coming from our own mind. And the reality is that the struggles will NEVER end as long as we continue to live a life that's centered in the mind—instead of centered in the soul. Our true essence.
In order to live the life we are meant to live, we have to learn how to reach a state of inner silence that allows our soul to rise up and take command of our life.And the only way go beyond the mind and reach this silence is through the practice of meditation. 
Coaching Sessions with David:
In these meditation coaching sessions, you'll learn how to:
Bring your mind to a state of stillness, so that your soul can rise up
Get clarity on your purpose in life—your dharma
Experience the profound meaning and fulfillment that comes from living in alignment with your soul and your dharma
Respond to life's challenges from a state of steady equanimity
Use the deeper states of meditation to manifest your soul's desires


So that you can live the life of greatness that you were born to live, and make the difference that you are here to make.
To schedule your free discovery call, please fill out the form below and you'll receive instructions for that process.
Thanks for submitting your information! Please continue with the checkout process.
Frequently Asked Questions
How do I schedule my appointment?
Upon purchasing coaching, you'll receive further instructions on how to book a time for your appointment.
Can I purchase coaching more than once?
Absolutely! If you find yourself in need of coaching more than once, simply purchase the coaching again.